Vaccine 'Covishield' under production phase at Serum Institute of India
Oxford-Astrazeneca joint collaboration vaccine which has taken a considerable lead in the race to find a shield immunity against COVID-19 which has already infected over 15 million people across the world. The vaccine 'Covishield' is now being manufactured in the Pune based Serum Institute of India.
The promising initial trial results were published by Oxford a couple of days back. The vaccine is now believed to be in the third phase of human clinical trials. Serum Institute of India has already begun manufacturing the vaccine for use in India. Suresh Jadhav, Executive Director of Serum Institute has said that the company intends on making 2-3 million doses by end of August. The company is looking to manufacture vaccines in proportion to the commercial requirements of the phase-3 trials.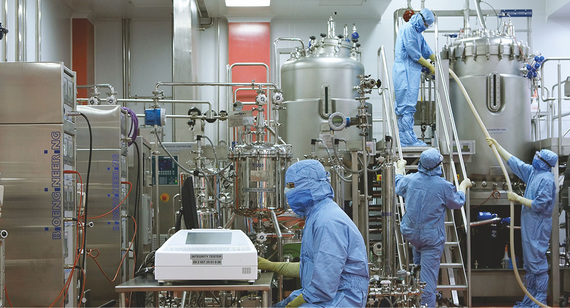 Earlier, Serum Institute of India CEO, Adar Poonawalla, had confirmed that the company would be manufacturing about a billion doses of the vaccine which will not only cater for India but also provide assistance to other low-income countries.
"Serum Institute of India has entered a manufacturing partnership with AstraZeneca to produce and supply 1 billion doses of the Covid-19 vaccine being developed by Oxford University. These vaccines will be for India and middle and low-income countries across the world (GAVI countries)," Adar Poonawalla had told media earlier.
He has also confirmed that the price of the vaccine will be capped at Rs 1,000 per dose. This has been done to keep in mind that the vaccine will be needed by people of all sects and classes. The vaccine is likely to hit the market early next year.
Serum Institute of India has established the most modern laboratories with high-tech machinery and computerized equipment for the production and testing of its life saving biologicals. Sophisticated tunnel systems, high speed vial washing, filling, stoppering and sealing machines are capable of working at a speed of 500 containers per minute and have been installed with filling accuracy to the third digit of decimal point to ensure accuracy and consistency.
Serum Institute of India has the latest technology screeners to inspect its products for any minute particulate matter undetectable to the normal human eye. Configured with high resolution CCD cameras and electronic controlled panel, the inspection is done fully automatically, thus reducing the margins of human errors. With the licensure of additional facilities, Serum Institute of India has the flexibility to produce vaccines in more than one plant, thus facilitating production of large number of doses in the shortest time frame. This enables the Institute to improve the response time to cater to any international emergency or outbreak.