India registers over 29 lakh total COVID cases, Records the highest single day recoveries
With the daily growth rate continuing to slow down, the doubling time of novel Coronavirus cases in India has now dropped to 30 days. As on Thursday, there were 29.05 lakh confirmed cases in the country, according to Union Health Ministry statement. The halfway stage was crossed on July 27, which means the present doubling has happened in 24 days. But the next doubling, at the current rate of growth, would happen only after 30 days, signalling a slowdown.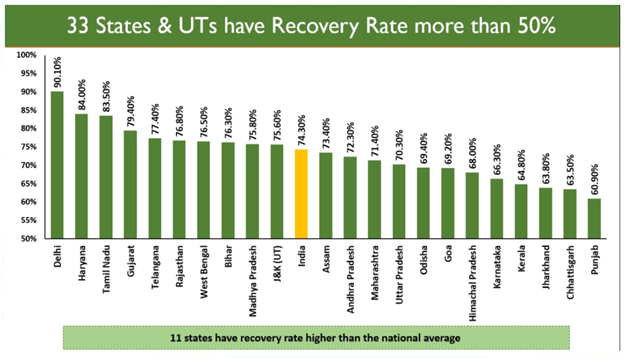 Meanwhile the country continues to register record recoveries in a single day. With 62,282 recoveries in the past 24 hours, India has touched another peak of posting the highest recoveries of COVID-19 cases in a single day, the Ministry said. With more patients recovering and being discharged from hospitals and home isolation (in case of mild and moderate cases), the total recoveries have crossed the 21.5 lakh mark on Friday (21,58,946). The gap between recovered patients and active COVID-19 cases has increased and reached 14,66,918 today. As a higher number of patient recover, their percentage rate continues to steeply rise along with steady decline in percentage Active Cases.
Doubling time is a function of the growth rate. Lower the growth, higher is the doubling time. It is one of the several metrics used to assess the pace at which the epidemic has been spreading in the population. At the start of the outbreak, in April and May, when the cases were rising rapidly, a doubling period of ten days was considered healthy for the stage of epidemic India was in at that time.
With the high level of recoveries, India's Recovery Rate has soared past 74% ensuring more and more patients are recovering.The current active cases (6,92,028) compose the actual case load of the country. It is 23.82% of the total positive cases today, registering further drop in the last 24 hours. They are under active medical supervision.
A sharpened focus on improved and effective clinical treatment in hospitals, supervised home isolation, use of non-invasive oxygen support, improved services of the ambulances for ferrying patients for prompt and timely treatment, upgradation of clinical skills of doctors treating COVID-19 patients by active technical guidance through tele-consultation sessions of AIIMS, New Delhi etc., have together led to point-to-point and efficient patient management. This has ensured that India's Case Fatality Rate (CFR) is maintained below the global average. It is on a continuous positive slide and currently stands at 1.89%.
Because of the different growth rates, the doubling times in states vary widely. Delhi has a doubling time of about 100 days, corresponding to the fact that its daily growth rate has been less than one per cent for a very long time now. Among the states with large caseloads, only Punjab, Kerala, Odisha and Jharkhand have doubling times less than 20 days right now.
There has been a marginal decline in the growth rates of Bihar and Uttar Pradesh as well. The only states that have been witnessing a rise in their growth rates right now are Punjab and Odisha. With a growth rate of 4.5 per cent a day, Punjab, in fact, is the fastest growing state right now, among those with large caseloads. The state seemed to have the epidemic under control in the months of June and July. Till the end of July, not more than 500 cases were discovered on any single day.