India logs 64,553 Covid-19 cases, Vaccine Phase III trials to begin soon
The University of Oxford-AstraZeneca backed novel coronavirus vaccine has been one of the leading vaccine candidates in the global race. The vaccine, currently in phase III of its trials, which was considered to be the first one to get launched for the public in 2020 will be most likely available for public deployment by 2021, according to latest reports.
Currently, phase III clinical trials are being conducted in research facilities across UK, US, Brazil and South Africa. Trials are also expected to start from next week in India in partnership with Serum Institute of India (SII).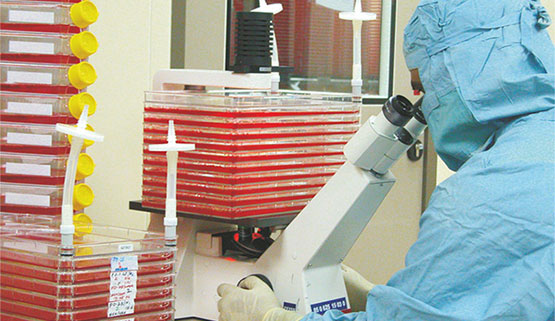 India has logged 64,553 cases of coronavirus in the last 24 hours with 1,007 deaths, the Union Health Ministry said on Friday morning. The total number of cases in the country has now shot up to 24,61,190 with 48,040 deaths. A total of 17,51,555 COVID-19 patients have recovered from the infection, taking the recovery rate to 70.17 per cent, the ministry said on Thursday.
The vaccine news follows after Russia successfully registered the world's first COVID-19 vaccine, 'Sputnik V' after claiming decent results post completion of phase I. Russian authorities plan to scale up production and have millions of doses ready before the year-end.
The Oxford University backed vaccine, called AZD-12222 was one of the first to head into the human trial stage as well as start late-stage trials. It's also one vaccine, which has found to be "safest" yet by the WHO in the pre-development phase.
Made using a non-replicating viral strain, the most recent development was confirmed by researchers from the Oxford vaccine research institute, quelling any rumours about an early advent related to launching in 2020. With researchers hopeful of seeing the end of clinical trials by November of early December, Oxford Researchers have also signed an agreement with Mexico and Argentine authorities to scale up production in the first quarter of 2021.
The announcement also comes after Pune-based SII's CEO Adar Poonawallah announced the availability of the vaccine for Indian masses by 2020.
Oxford's most recent announcement may make it a bit harder for the world to get a vaccine this early but makes it a bit safer than the others. Russian vaccine's early launch, for example, has been marred by controversies and safety concerns. The University of Oxford has also signed pacts with global vaccine makers and vaccine federations. WHO also asked top vaccine makers in the race to be a part of its global vaccine alliance, COVAX to ensure equal distribution of the doses for the public.
Pune-based Serum Institute of India (SII), will also be producing millions of doses for the company. Serum Institute will also be receiving close to $150 million 'at-risk' funding from Bill and Melinda Gates Foundation to develop a low-cost, readily available doses for populations at large. The funding will be routed through GAVI, international vaccine alliance and will help the vaccine producer overcome problems pertaining to marketing, production and pricing on the global level.