Delhi gears up with Post-COVID Care, sets up Clinic
Not only Union Health Minister Amit Shah complained fatigue and pain after he recovered from COVID-19, several COVID-19 patients in Delhi suffered such symptoms after they tested negative and recovered. To provide post COVID care, Delhi has geared up to take care of such patients. The Delhi Government-run Rajiv Gandhi Super Specialty Hospital (RGSSH)has started first of its kind post-Covid Clinic to look after recovered patients who are facing issues like breathlessness, body aches or fatigue. The Clinic has capacity to accommodate 50-60 patients.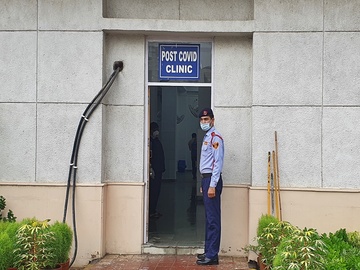 A recent research in UK on recovered COVID patient revealed that almost three quarters of patients admitted to hospital still suffer symptoms three months later. Researchers found that 81 out of 110 patients had breathlessness, fatigue and muscle aches long after their battle with the disease.
The RGSSH Clinic will not only look after the physical problems of patients but also psychological issues that they may be going through.
Dr Ajeet Jain, Head of Cardiology and Nodal officer for COVID-19 at RGSSH said, " We are witnessing that after recovery fever, cough and other earlier symptoms are gone, however breathlessness, excessive fatigue and muscle aches have persisted among several recovered patients. In view of that we have set up Post COVID Clinic here."
"Elderly patients are complaining of respiratory issues and sensory issues like loss of taste and smell. Most of them are those who have other conditions, like Hypertension and Diabetes, too. We are also seeing symptoms of Lung Fibrosis -a disease that has symptoms like breathlessness and dry cough- in several patients. Younger patients are mostly facing psychological issues," he added said.
The Clinic will have separate sections for separate needs - Counselling, Yoga, Physiotherapy, Consultation, and Sample collection.
The Physiotherapists will help the patients in breathing exercises, Cardiologists, Pulmonologists and Psychiatrists will be present in the consultation room so that both the physical as well as mental needs of patients are taken care of. Sample collection room is for carrying out blood tests or ECGs that may be required for further investigation.
Dr BL Sherwal, Medical Director at the hospital, said, "As of now, it is hard to say on a numerical basis about how many patients are suffering from post-Covid issues. But our medical teams do thorough follow-ups with all our recovered patients and we have come across several patients. A full recovery is essential for all patients and clinics like these will play a big role in ensuring that."
The Delhi government has extended all support to RGSSH for setting up Post COVID Clinic. Dr Sherwal and Dr Jain urged the recovered patients that if they feel breathless, pain, sleepless, and any other problems, they can come to the Clinic for further management of the problems.