Amit Shah Tests Positive for COVID-19, Admitted to Medanta Hospital
Union Home Minister Amit Shah has tested positive for corona virus, which has infected more than 17 lakh people in the country. Sources said he has been admitted to Medanta hospital, located in Haryana's Gurugram near Delhi.
In a tweet, the Minister said his health was "fine" but he was being hospitalised "on the advice of doctors". He also requested that all those "who have come in contact with me in the last few days, please isolate yourself and get your inquiry done". Sources said extensive contact tracing will be carried out and anyone who came in contact with the minister will have to self-isolate.
Shah, 55, had taken part in a cabinet meeting on Wednesday, which was attended by all top ministers, including Prime Minister Narendra Modi, defence Minister Rajnath Singh, and finance Minister Nirmala Sitharaman. All safety norms, including social distancing, were followed at the crucial meet, where the National Education Policy was approved.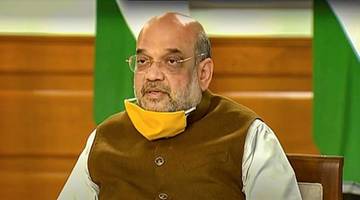 While most of PM Modi's meetings are now held online, cabinet meetings are not virtual. On Sunday afternoon, Shah tweeted: "On getting the initial symptoms of coronavirus, I got the test done and the report came back positive. My health is fine, but I am being admitted to the hospital on the advice of doctors. I request that all of you who have come in contact with me in the last few days, please isolate yourself and get your inquiry done," Shah's tweet in Hindi roughly said.
Meanwhile, Karnataka Chief Minister BS Yediyurappa tested positive for Covid-19 on Sunday and has been admitted to a private hospital in Bengaluru. "I have tested positive for corona virus. Whilst I am fine, I am being hospitalised as a precaution on the recommendation of doctors. I request those who have come in contact with me recently to be observant and exercise self quarantine," Yediyurappa also announced on Twitter. His daughter, B Y Padmavati, has also tested positive for the disease, and has been admitted to Manipal Hospital. Seventy-seven-year-old Yediyurappa has been admitted to the Manipal hospital, his office confirmed.
Megastar Amitabh Bachchan, who was diagnosed with coronavirus on July 11 and was admitted to Mumbai's Nanavati hospital for treatment, has been discharged by the medical authorities and sent back home, Abhishek Bachchan informed fans via social media. Big B's latest Covid-19 test result has also come out to be negative and he will now rest at home, informed Abhishek. "My father, thankfully, has tested negative on his latest Covid-19 test and has been discharged from the hospital. He will now be at home and rest. Thank you all for all your prayers and wishes for him (sic)," wrote Abhishek on Twitter giving an update about his father's Covid-19 status. Big B also tweeted about his health, writing, "I have tested CoVid- have been discharged. I am back home in solitary quarantine." Abhishek, however, has not yet been discharged from the Nanavati hospital, where he will be undergoing corona virus treatment for a few more days.