Dr Krishna Kumar Aggarwal was Veritable गीता of Healthcare
Corona, the marauding deadly virus, snatched Padma Shree Dr K K Aggarwal, people's true healer, leaving millions inconsolable. Dr Aggarwal has left a shoe impossible to be filled in. The inimitable Dr Krishna (named so because he was born on auspicious Day of Krishnashtami) was veritable Geeta of healthcare. Like Krishna of scriptures, he was an incarnation of sorts in the realm of health. He had his critics and valid ones at that but, on balance; he was darling of all and sundry.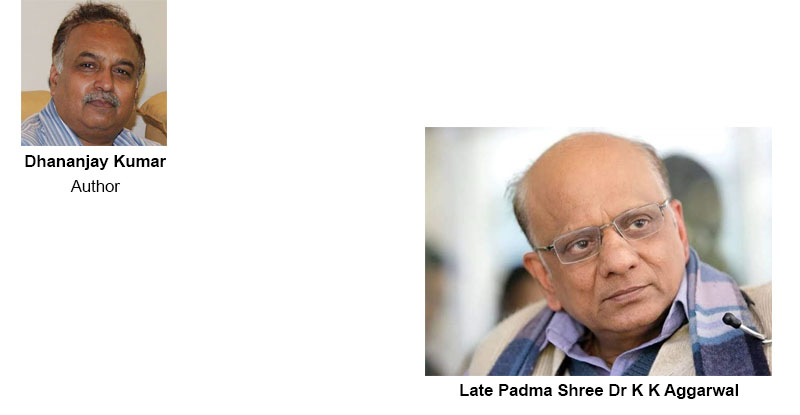 In this catastrophic Corona time, Dr K K emerged as a mountain of strength for those hundreds of thousands hapless people who had nowhere to turn to and his demise truly marks the sunset of hope for them. His daily online consultation turned into national OPD touching million of lives in the nook and corner of India.
Dr K K seems to have tempted fate. Injecting positivity early on, He would often boast he would not let a single soul to die of corona if people came to him just when first symptoms showed up. He handled hundred of corona patients with clinical precision and really kept up his promise of not letting anyone die. In media advocacy zoom meeting every Sunday when health journalists invariably expressed fear about themselves, Dr K K would banish their worries with his reassuring words- why am I here. The irony of ironies is that he himself was taken unawares by the guileful pathogen. After protracted battle against Corona in the ICU of AIIMS and despite best doctors there trying hard, Dr Aggarwal caved on wee hours of May 17.
His poignant swan song, his last video, just before he started on the perilous road to ultimate journey is heart wrenching but also underlines strength of his character. He hung his boot quoting the iconic and immortal line- The show must go on. When his brave and intelligent daughter Naina Aggarwal called me to fill in for him to lead media advocacy meeting, I felt quite unequal to it. No one will ever be able to swap his place. It begs the question- who will carry his huge legacy forward and how? The answer is hard to come by.
He wore many hats- a senior cardiologist, mind body consultant, world class clinical Ecocardiographer, a writer, anchor, orator, health activist, social worker, teacher, producer, researcher and what not. But He was an orator prodigy. His gift of the gab cast a magic spell on audience. However much flawed his stance might be, you could not win arguments with him. His persona was so bewitching.
He has left an indelible imprint upon Indian healthcare. His signature 10 day health Mela in Delhi every year is a milestone in health awareness. This led to health melas galore throughout the country. Though he was allopath by training, his repertoire of medicine was a unique blend of wisdom from modern, ancient, occult, occident et al. He was a true holistic healer.
Dr Aggarwal, President, Confederation of Medical Association of Asia and Oceana (CMAAO) and Heart Care Foundation of India (HCFI), has left a big void in Indian Healthcare. Editor in Chief, IJCP group and Meditalks.in and former editor of IMA, Dr KK was bestowed with Padma shree in 2010, has many books to his credit. He was bestowed with Dr BC roy award as well. He survives by wife Dr Veena Aggarwal, daughter Naina Aggarwal and son Neelesh Aggarwal.
About the Author
Dhananjay Kumar is a Health Journalist of over two decades in Delhi NCR