COVID-19 | Policies, Initiatives and advisors
India has more than 5.5 lakh Recovered Cases, exceed Active Cases by more than 2.5 lakhs
The series of pro-active, pre-emptive and coordinated steps taken by the Centre and the State governments for containment and prevention of COVID-19 has contributed to a gradual surge in COVID-19 recovery. Aggressive testing coupled with timely diagnosis has led to identifying COVID affected patients before they progress into an advanced stage of the disease; effective implementation of containment zones, surveillance activities ensured that the rate of infection stays under control. The norms and standards for care of Home Isolation along with use of oxymeters have helped to keep a check on the asymptomatic or mildly symptomatic patients without burdening the hospital infrastructure. Such graded policy and holistic approach has led to the recovery of 18,850 people in the last 24 hours, taking the total cumulative number of recovered cases among COVID-19 patients to 5, 53,470. The recovery rate has further improved to 63.02% today. 19 States have a recovery rate higher than the national average.
Google CEO appreciates PM's leadership in the battle against the pandemic in India
Prime Minister Narendra Modi interacted with Google CEO Sundar Pichai via video conferencing earlier today. Pichai briefed the Prime Minister about the efforts undertaken by Google to help spread awareness and provide reliable information about COVID-19. He said that the strong step of Lockdown initiated by the Prime Minister set up a very strong foundation of India's battle against the pandemic. Prime Minister appreciated the proactive role played by Google in battling misinformation and conveying information about necessary precautions. He also talked about further leveraging technology in providing healthcare services. Prime Minister said that Indians are adjusting to and adopting technology at a rapid pace. He talked about farmers benefiting from technology and the possible wide-ranging benefits of AI in agriculture. Prime Minister explored the idea of virtual labs that can be used by students as well as farmers. Sundar Pichai briefed the PM about new products and initiatives by Google in the country. He mentioned about the launch of AI Research Lab in Bengaluru, while also highlighting the benefits of Google's flood forecasting efforts.
Finance Commission holds meeting with the Ministry of Health
The 15th Finance Commission today held a meeting with the Union Minister for Health and Family Welfare, Dr. Harsh Vardhan and senior officials of Health Ministry on the specific issues of Revising the State Specific proposals of the Mnistry in light of the COVID-19 experience; Exploring the possibility of back loading in the light of fiscal strain; and Consideration of the suggestions of the High Level Group of the XVFC on health by the Ministry. Initiating the meeting the Chairman, XVFC, NK Singh announced that looking at the peculiar state of the pandemic, the Commission has decided to have a separate Chapter on Health in its final Report. The Ministry in a detailed presentation to the Commission highlighted the National Health Policy (NHP) 2017 targets which include: Increase public health expenditure to 2.5% of GDP, in a progressive manner, by 2025; Primary Health Expenditure to be 2/3rd of the total health expenditure; and Increase State sector health spending to more than 8% of their budget by 2020.
Amitabh, Abhishek Bachchan stable, don't require aggressive treatment: Hospital sources
Amitabh Bachchan and his son, actor Abhishek Bachchan, who were admitted to a hospital after testing positive for corona virus, are "clinically stable", hospital sources said on Monday. Amitabh, 77, and Abhishek, 44, revealed their diagnosis on Twitter on July 11, saying they were in the isolation ward of Nanavati Hospital. "They both are in the (isolation) ward and are clinically stable. At present, they do not requiring aggressive treatment. They are okay with the first line of medication. They are being given supportive therapy," a hospital insider told Media.
Centre Advisories / Policies / Updates
Over 11 mn samples tested for Covid-19 so far, says ICMR
The Indian Council of Medical Research (ICMR) said on Monday that a total of 2, 19,103 samples have been tested for corona virus in the last 24 hours. With this, the total number of tests in India has reached 1, 18, 06,265. Meanwhile, ICMR is continuously scaling up its testing facilities for COVID-19 by giving approval to government and private laboratories. As of now, a total of 688 laboratories across India have been given the approval to conduct tests for corona virus including 480 government laboratories and 208 private laboratories' chains.
Govt. to publish serological survey report of containment zones this week
The government will publish the results of the second part of its serological survey, aimed at finding the presence of SARSCoV-2 virus in containment zones, this week, officials at the National Centre for Disease Control (NCDC) said on Monday. Indian Council of Medical Research (ICMR) had conducted the first sero survey in May in collaboration with state health departments, National Centre for Disease Control (NCDC), and World Health Organization (WHO) India in two parts. Part one of the survey, aimed at detecting the number of people infected with SARSCoV-2 in general population, found around 0.73% having evidence of past exposure to the virus. The study was conducted across 83 districts covering 28,595 households and 26,400 individuals. The second part of the survey, to find out the number of people infected with SARSCoV-2 in containment zones of hotspots, is complete. NCDC is currently compiling the report. The major focus of the government seems to be on the states having rising cases of covid-19 such as Delhi, Maharashtra Tamil Nadu and Gujarat.
Global Advisories/Policies/Updates
Russia 1st nation to finish human trials for Covid-19 vaccine
Russia has become the first nation to complete clinical trials of Covid-19 vaccine on humans, and the results have proven the medication's effectiveness, the media reported on Sunday. Chief researcher Elena Smolyarchuk, who heads the Center for Clinical Research on Medications at Sechenov University, told Russian news agency TASS on Sunday that the human trials for the vaccine have been completed at the university and they will be discharged soon. "The research has been completed and it proved that the vaccine is safe. The volunteers will be discharged on July 15 and July 20," Smolyarchuk was quoted as saying in the report. There was, however, no further information on when this vaccine would enter commercial production stage. Russia had allowed clinical trials of two forms of a potential Covid-19 vaccine developed by the Gamaleya National Research Center for Epidemiology and Microbiology on June 18.
COVID-19 Could've Existed Long before Outbreak: WHO Official
The novel corona virus could have existed in a dormant state long before its outbreak, Melita Vujnovic, the representative of the World Health Organization (WHO) to Russia, has said. "WHO has established a large team that will work together with Chinese scientists to analyze the origin of the virus," Xinhua news agency quoted Vujnovic as saying in a recent interview. "This virus lived in animals and at some point passed to humans. It's hard to say when and where this happened. It's being investigated. "Viruses can be found in waste water. But nothing can be said specifically," she said. The official further said that scientists were studying these samples and if there was any "revolutionary result", the WHO will immediately announce it. Vujnovic's statement echoes remarks made by Tom Jefferson, a senior associate tutor at the Centre for Evidence-Based Medicine (CEBM) at Oxford and a visiting professor at Newcastle University, earlier this month. He had said that the novel corona virus existed worldwide and broke out whenever and wherever favorable conditions occurred rather than starting in China last December leading to the ongoing global pandemic.
WHO registers another highest one-day jump with over 230,000 Covid-19 cases
The World Health Organization has reported another record in the increase in the number of confirmed corona virus cases over a 24-hour period, at over 230,000.The UN health agency said Sunday the United States again topped the list among countries, with more than 66,000 cases recorded. The figures don't necessarily account for delays in reporting of cases, and are believed to far underestimate actual case totals.
Trump wears mask as Covid-19 deaths stalk US again
US President Donald Trump finally wore a mask during a visit to a hospital on Saturday, setting a public example health experts say he should have done months ago, even as his administration's shambolic approach to the corona virus pandemic has resulted in an upsurge in cases and casualties. "Hopefully I'll look good with a mask on," Trump told a Spanish television network.
State Advisories / Policies / Updates
Andhra Pradesh reports 37 Covid-19 deaths, nearly 2,000 cases
A record 37 COVID-19 deaths were reported in Andhra Pradesh on Monday, the highest single-day tally so far, taking the toll to 365 as the overall infection count jumped up to 31,103 with the addition of a new record high of 1,935 positive cases. A total of 19,247 samples were tested and about 10 per cent of them turned positive for corona virus, a government bulletin said, giving details for the last 24 hours ended at 10 AM. In all, an aggregate of 11, 73,096 samples had been tested in the state of which 31,103 turned positive, with a positivity rate of 2.65 per cent. Six COVID-19 deaths were reported in Anantapuramu district, the highest in a day in a district so far.
Complete ban on public gatherings in Punjab
Stepping up its fight against Covid-19, the Punjab government on Monday imposed a complete ban on all public gatherings, while restricting social gatherings to five and marriages and other social functions to 30 instead of the current 50. These were among the revised guidelines issued in line with the announcement made by Chief Minister Amarinder Singh. Mandatory first information reports (FIRs) shall be filed against those found violating the curbs on public gatherings, which now stand strictly disallowed. A detailed notification issued by the government says joint teams of police and civil administration shall strictly enforce the restrictions on social gatherings (restricted to 5 under section 144 imposed in all districts) as well as weddings and social functions. The management of marriage halls and hotels would be held responsible and would face suspension of licence in case of violation of norms.
More people recovering daily from Covid-19 in Delhi than contracting it
The first 12 days of July have largely reported more cases of people recovering daily from the corona virus than the fresh ones added to Delhi's COVID-19 count, according to the Delhi government data. From July 1-12, the city recorded 25,134 cases, while 31,640 people recovered. Barring July 1 and July 6, all days this month recorded more recoveries than fresh cases. The recoveries from July 1-12 too have been sharp six days saw recoveries in the range of 2,000, three days in the range of 3,000 while one day (July 9) saw over 4,000 recoveries.
Industry Updates
Tulip Diagnostics gets all its workers tested
Tulip Diagnostics, the Verna-based firm where several Covid-19 cases have been detected, has got all its 500-odd workers tested for the infection. The firm, which manufactures diagnostic kits, will take a call on resumption of operations once the results of all the employees come in. Tulip Diagnostics, which has seven manufacturing units at Verna, manufacturers Viral Lysis Medium (VLM) and Viral Transport Medium (VTM) kits for Covid-19 tests. These are being manufactured for Uttar Pradesh, Bihar, Odisha, and even for the ICMR. The firm also supplies various other rapid testing kits, which are used in India and abroad. Currently, they also have export orders from USAID and will be manufacturing the Coviscreen double antigen test for foreign countries. "We are waiting for the results for the tests conducted on the employees. The results have to come in and then we will decide on the next course of action," Tulip Diagnostics president D G Tripathi said.
Glenmark cuts price of Covid drug FabiFlu by 27% within a month of launch
Mumbai-based Glenmark has slashed the prices of its antiviral oral medication favipiravir by almost 30 per cent in less than a month post its launch in the Indian market. The company also said that it has commenced a post marketing surveillance (PMS) study on its brand FabiFlu to closely monitor the efficacy and safety of the drug in 1000 patients. As such a price war is expected in favipiravir with several companies gearing up for launch the drug in the Indian market. Players like Strides, Cipla-BDR Pharma, Optimus Pharma (contract manufacture for local companies), Lupin are considering launching their own brands. On Monday Glenmark announced a price reduction of 27 per cent for FabiFlu, which will now cost Rs 75 per tablet. The company said that the price reduction has been made possible through benefits gained from higher yields and better scale, as both the API and formulations are made at Glenmark's facilities in India,the benefits of which are being passed on to patients in the country.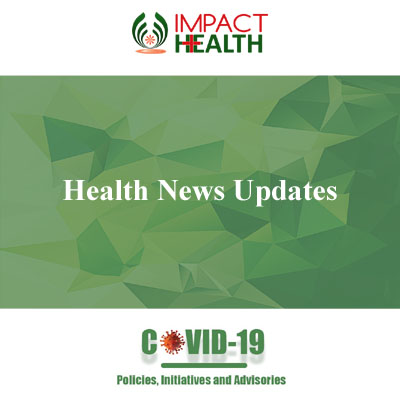 Prepared by Impact Health Research Team
Note- If you want detailed information, analysis, and data on any particular segment or sector, kindly let us know. Reach out to us-, M: +917028023385