Critical care preparedness in India needs a booster shot to tackle the increasing number of COVID-19 cases: Experts
With the anticipated increase in the number of COVID-19 cases in India, there is a need for a coordinated effort by public health organizations and the professional societies to ensure adequate delivery of intensive care to critically ill COVID-19 patients, according to experts.,
In a paper entitled "Challenges in the delivery of critical care in India during the COVID-19 pandemic" published in The Journal of Intensive Care Society recently, the experts highlighted the unprecedented demand that the COVID-19 pandemic has placed on the healthcare system with the consequent need to boost critical care preparedness in the country.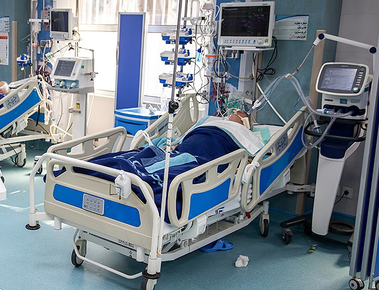 "With a population exceeding 1.3 billion and the majority living in rural and remote regions, critical care and public health capacity in India face enormous pressure," said Dr Bharath Kumar, honorary research fellow, The George Institute India and one of the main authors of the paper.
"Even if less than 5% of patients require critical care services, this will still rapidly overwhelm the healthcare system in a country, where intensive care services and resources are scarce and unevenly distributed," he added.
Highlighting the critical care preparedness of India for the pandemic and the associated challenges, Dr Bala Venkatesh of the George Institute and a co-author of the paper said India has only 2.3 ICU beds per 100,000 population as against Germany which has 29.2 and Canada which has 12.9. "These resources are likely to be further limited in smaller cities, towns and districts," said Dr Bala.
There is also a huge shortage of availability of beds having oxygen supply with one estimate putting it at 120,000 beds in the whole of the country. Demand for ventilators is also bound to increase and currently the number varies between 15,000 to 48,000. "We also need more doctors and nurses with ICU training", argued the authors.
While there are 1.2 million N-95 masks available in 334,000 hospitals across the country, there is no data on individual components of PPE and no estimates of anticipated demand.
With increase in case load and hospitalization, there is an urgent need for innovative and context-specific solutions. "Globally, the use of tele-medicine for the delivery of COVID and non-COVID care in ICUs has sparked great interest and it is important for us to adopt the best practices to boost our critical preparedness," said Prof Vivekanand Jha, Executive Director of the George Institute, India.
The Society for Critical Care Medicine (SCCM) guidelines call for infection control-performing aerosol-generating procedures on ICU patients with COVID-19 in a negative pressure room, using fitted respirator masks (N95 respirators, FFP2 or equivalent) and tracheal intubations to be performed by the most experienced airway operator. "While the latter is feasible, the first two will be challenging to implement uniformly across India," argued the authors.