Antibodies found in 8% people in Haryana, India's total Recoveries surpass 30 lakh
With over 80,000 cases and more than 1,000 deaths for yet another day, the Covid-19 tally in India on Friday rose to 3,936,747 with 68.472 fatalities, latest data by the Ministry of Health and Family Welfare showed. The government claimed that total recoveries in the country have crossed 30 lakh. Meanwhile, antibodies against the COVID-19 infection were found in eight per cent of people in the seroprevalence survey done in Haryana last month and those living in urban areas and NCR districts were found more affected.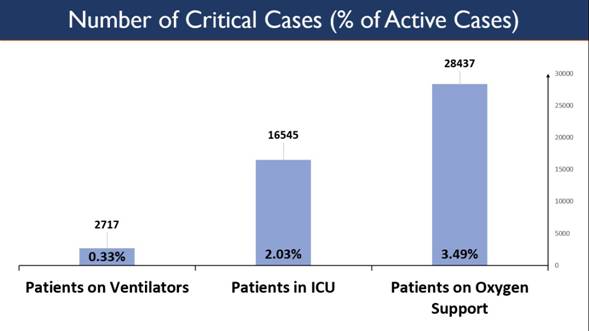 Health Minister Anil Vij said, "As many as 850 samples each were collected from 22 districts and the collection was done both in urban and rural areas. Overall, 18,905 samples were collected and the seroprevalence study showed that the seropositivity of SARS-CoV-2, the virus that causes COVID-19, is eight per cent in the state."
Even though cases are surging rapidly during unlocking period, the recovery rate is encouraging. One of the goals of the TEST-TRACK-TREAT strategy of the Centre is to reduce the COVID mortality and keep the case fatality rate low. There has been sharp attention on sustaining high levels of recoveries and to strengthen the clinical treatment protocols to provide a uniform standardised level of medical care to save lives.
Not only is India's Case Fatality Rate lower than the global average and progressively declining (current figure is 1.74%), but a very small proportion of the active cases, amounting to less than 0.5%, are on ventilator support. Data also shows that 2% cases are in ICUs and less than 3.5% of the active cases occupy oxygen supported beds. As a result of these measures, India's total COVID-19 recoveries have crossed 30 lakh (30,37,151) today.
" With the recovery of 66,659 in the last 24 hours, India has continued its trajectory of posting more than 60000 recoveries for the 8th consecutive day. The Recovery Rate amongst the COVID-19 patients is 77.15% demonstrating that the number of patients recovering is on a steady rise over the past several months," the Union Health Ministry said.
The higher number of recoveries has also led to a steady enhancement in the difference between the recovered and active ones. This difference has crossed 22 lakh, as on date. This ensured that the actual caseload of the country viz. the active cases (8,31,124 which are under active medical care), has reduced and currently comprises only 21.11% of the total positive cases.