Single-minded focus on reducing deaths due to COVID-19 yields positive results
Noted Cardio surgeon Dr Ajeet Jain, HOD, Department of CTVS, Rajiv Gandhi Super Speciality Hospital, (RGSSH), Tahirpur, Delhi and Nodal Officer- COVID -19, RGSSH is a Corona Warrior and has not visited his home since March 17 when the Hospital received 10 patients. Since then he is relentlessly taking care of COVID-19 patients and coordinating with authorities to combat COVID-19. Dr Jain was instrumental in ramping up corona bed capacity of the hospital from 56 to 500 now. In an exclusive interview with BK Jha, Executive Editor, Impact Health, Dr Jain spoke about his efforts, struggles, and achievements in dealing with Corona crisis. Excerpts:
You are on the forefront as a frontline health professional and a nodal officer of a dedicated COVID-19 Hospital in Delhi. It is now over four months. How do you see this period?
In the second week of March, we knew that it was only a matter of time before the hospital was asked to handle Covid-19 cases. We started discussing work plans with doctors and other healthcare workers. On March 17, with 10 patients our war against COVID-19 began. After being appointed as a nodal officer, my responsibilities increased significantly. We started working 14 days at a stretch and then spending the next 14 days at government allotted accommodation — on campus, or at the nearby Hotel Leela — in a sort of quarantine to ensure we did not carry the infections back to our families and neighbourhoods. I have not gone home since then. My wife Dr Prerna is a Mohalla Clinic doctor, two daughters and son are my main source of strength and they stand by me while I keep on serving people who suffered the worst disease we are handling now. We came here mentally prepared. We knew that we would not be able to see our families for months. Now we will go home only when we have no Covid-19 patients left in our ward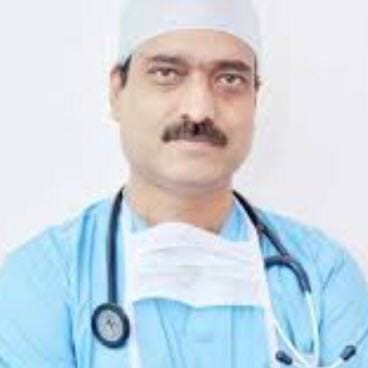 Being a nodal officer, you coordinated with authorities. Did you face any challenge on this front?
I am coordinating with authorities from across agencies – officials from the integrated disease surveillance programme, the testing centres, the district magistrates, and ambulance operators who bring in patients. I am also on call with agencies providing food, arranging transport for those who are discharged, and with the anxious families of the patients admitted to the hospital. My phone does not stop ringing. I get at least two or three calls every minute. All agencies have been working hard to combat COVID-19 and each one is playing a critical role. Delhi government support came all the way and now RGSSH houses the second-highest number of patients after the Lok Nayak Hospital near Delhi Gate. All patients coming to the hospital are referred by the state health department or district officials who call in ahead. An ambulance is sent to get them.
What is the main focus concerning the management of COVID-19?
Our main focus is on reducing deaths due to COVID-19. Widespread testing, oximeters, responsive ambulance system, the ready availability of beds via Delhi Corona App and focus on adding ICU beds are key to reduction in deaths. The single-minded focus on reducing deaths due to COVID-19 started giving positive results in the last month. Detailed analysis of deaths by Health Department shows a 44% decline in deaths in the national capital between early June and early July. A detailed analysis of deaths due to COVID-19 in Delhi carried out by the Health Department, GNCTD, for the period 1-12 June and 1-12 July has revealed a 44% decline in deaths – from 1089 during 1-12 June to 605 during 1-12 July. Delhi govt's Rajiv Gandhi Super Speciality Hospital turned out to be among the best Covid hospitals in the national capital in terms of death rate – 6% in early June and 7% in early July. During 1-12 June, % of all deaths that took place within 4 days of admission was 67%, whereas % of deaths that took place within 24 hrs of admission was 34%. In comparison, during 1-12 July, % of all deaths that took place within 4 days of admission was merely 35%, whereas % of deaths that took place within 24 hrs of admission was 15%.
Did direct monitoring by the government help in tackling the situation?
The radical turnaround in death rate was possible due to the single-minded focus on initiatives that would directly help prevent deaths, as well as daily monitoring of the status of critical patients. Emphasis on timely implementation of crucial initiatives yielded positive results and prevented deaths which restored public confidence in Delhi government's hospitals. Direct monitoring has rebuilt public confidence in Delhi govt hospitals. Health team directed the best performing and worst forming hospitals to analyse their system and suggest specific interventions that need to be scaled or changed. When Delhi began to unlock in early June, GNCTD had stressed to Health Department officials that the biggest priority was to ensure minimal deaths due to Covid-19. Multiple initiatives were taken specifically keeping this objective in mind, and monitoring which led to a major decline in COVID deaths between early June and July.
What are the key initiatives that were responsible for the reduction of COVID deaths in Delhi?
As I said widespread testing, oximeters, responsive ambulance system, Availability of beds & Corona App are among the key initiatives. Moreover, seeing the number of deaths increase in early June and based on conversations with several health experts and doctors, the expansion of ICU beds was an important initiative. From less than 500 ICU beds in early June, Delhi today has over 2200 ICU beds in COVID hospitals, about 1400 of which are vacant. From an average of 5,500 tests per day, Delhi scaled-up testing capacity to reach an average of 21,000 tests per day in early July itself. Testing is robust now. Delhi government also decided to provide Oximeters for free to all home isolation patients. A total of 59,600 oximeters were purchased and distributed. This ensured that patients in home isolation could monitor their vitals and in case of becoming serious, would lose any precious time in transferring to hospitals.
Does Responsive Ambulance System help in quick access to treatment?
Based on observations in many states where government ambulance system could not cope with the surge in COVID cases causing dangerous delays in the transfer of critical patients to hospitals, in some cases, even deaths, the rapid expansion of ambulance fleet right at the beginning of lockdown was a priority. Daily reports of ambulance fleet and response times were monitored. The ambulance fleet increased from 134 at the beginning of lockdown to 602 in July, and the response times dropped from an average of 55 mins on average to 20-30 mins. It helped people a lot.
Do you think, RGSSH played a significant role in what we now refer to ' Delhi Model'
Of Course, Rajeev Gandhi Super Speciality Hospital had a very low death rate as we focused on this right from the very beginning. Now, we have been asked to share our best practices so that the same could be adopted in other hospitals. Our patients, who were treated here, share their experiences which are very encouraging for us. Intending to further reduce death rates, GNCTD has directed Health Department officials to focus on government hospitals with the highest death rates or those having the highest proportion of deaths taking place in wards instead of ICUs, and recommend specific measures that need to be adopted. Analysis of deaths from 1-23 July revealed that the government hospitals with the highest death rate are RML (39%), Safdarjung (35%), GTB (22%), AIIMS Delhi (20%) and LNJP (15%). The percentage of deaths that took place in wards in these hospitals in the period 1-23 July was 43% in RML, 42% in GTB, 38% in LNJP and 18% in Safdarjung.