Vedanta's first COVID Vaccination held at its Jharsuguda Aluminium plant, Odisha
Vedanta Aluminium, India's largest producer of aluminium and value-added aluminium products, becomes the first in the Vedanta Group to conduct the COVID Vaccination Program for its medical personnel and healthcare staff. Organised in partnership with the District Health Administration of Jharsuguda, Odisha, in the first phase, 125 personnel from Vedanta's Occupational Health team will be vaccinated. Today's vaccination drive, held in strict adherence to all COVID guidelines, was held under the close supervision of the district administration, who also provided the vaccine and other required medical equipment.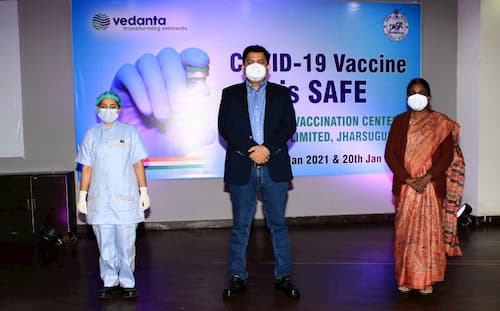 Appreciating the Odisha state government's exceptional efforts against the pandemic Rahul Sharma, Deputy CEO – Aluminium Business, Vedanta Ltd., said, "Under the visionary leadership of Odisha Chief Minister Naveen Patnaik, the state has been at the forefront of combating the pandemic. The Odisha Government's rapid and firm response in dealing with the situation, from creation of COVID Hospitals in every district to implementing stringent public protocols, has been a superlative example in keeping the disease under control."
"The safety and health of our employees and business partners is our foremost priority. Since the outbreak of COVID-19 in Odisha, we have lent extensive support to the state government, district administrations of Jharsuguda and Kalahandi, and the local communities, reaching out to more than 10 lakh people in the process. We remain committed to the fight against COVID and keeping our employees and communities safe," Sharma added
Vedanta had rolled out a slew of initiatives for the state of Odisha, particularly for communities around its areas of operations in Kalahandi, Jharsuguda, and adjoining areas, towards ensuring grassroots preparedness as a critical first step towards combating COVID-19. Nearly one lakh numbers of Personal Protective Equipment (PPE) were provided to the Government of Odisha.
Vedanta lent critical support to the district administration's COVID hospitals in Jharsuguda and Bhawanipatna. The company supported the 110-bedded COVID hospital in Jharsuguda with medical equipment such as ventilators, corona kits, oxygen concentrators, nebulizers, specialized medical gear and other critical infrastructure. Likewise, the COVID hospital in Bhawanipatna was given PPEs and other essential supplies. Both hospitals together cater to roughly 6 lakh people.
Vedanta's own hospital in Lanjigarh supported the district administration, and offered Telemedicine facility alongside a 24X7 helpline to address concerns. The hospital continues to serve about 7,000 patients per month from the community.
Mobile Health Units along with anganwadi workers and paramedic staff conducted over 300 awareness sessions across more than 100 villages to spread awareness on COVID-19 prevention and social-distancing, in addition to distributing masks and soaps free of cost.
Over 2 lakh reusable masks have been distributed across 114 villages, district administrations, police and jail authorities, media, and other critical personnel of Odisha, who were exposed as a part of their duties. These masks are stitched by rural women's self-help groups (SHGs) supported by Vedanta, thus providing them livelihood in these times.