Mumbai Taxi Drivers turn Covid Warriors: Warn against visiting high-risk areas
Mumbai, October 9, 2020: As Mumbai struggles to restart its economy, the taxi drivers have now decided to become COVID warriors by spreading awareness of safety measures to help in controlling the virus spread in the city.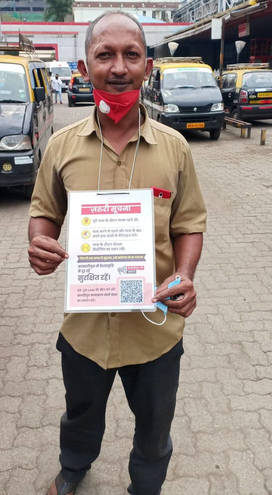 The Maharashtra Vahatuk Sena, taxi drivers' union, has started an initiative wherein they have put up banners across South Mumbai Taxi Stands to create awareness among the drivers and passengers on ways to stay safe and prevent COVID spread.
The banner and pamphlets essentially talk about the importance of social distancing, avoiding visits to high risk zones such as the red- light areas of Kamathipura in South Mumbai, wearing masks, washing hands regularly.
They have also issued individual letters and informative pamphlets to be placed inside all taxis across localities of Grant Road, Mumbai Central, Chhatrapati Shivaji Terminus, Masjid Bunder, Byculla and Nagpada etc.
Speaking about the initiative, the President of the Sena Mr. Uday Dalvi stated, "This is the first time I have seen my city struggle and as taxi drivers, we also wanted to do whatever we can to help the city come back to its original form. We believe that for the greater good it is essential that each one of us follow these guidelines strictly to keep ourselves and our city safe. The whole state is like my family and we all have a responsibility to protect them. The government is doing their best and we will do ours to keep the city safe."
Akbar, a taxi driver while talking about the issues faced by the drivers and this initiative stated that, "This is a great step for us. We have been facing many financial and safety issues during these times. Many times passengers are not wearing masks or want us to take them to high-risk areas, and we are unable to explain our situation to them. Through these banners we will be able to create awareness among our fellow drivers and passengers."
Through this initiative, the Maharashtra Vahatuk Sena has also distributed basic safety material like masks along with the banners and pamphlets to over 500 drivers as of now. They plan to reach over 3500 drivers soon.